Calm down, Relax. I know you've been searching for this platform to buy Afrobeat Instrumentals and you're currently like. So. For real? There's an Afrobeat Instrumental store in Nigeria? Like. A website where you can buy Nigerian beats and also get quality Mixing and Mastering Services for your track / album.
Yeah! It's high time we put an end to Making unprofessional music.
Do You Know That You Can Buy Nigerian Afrobeat Instrumentals Online?
Who is FreakSonar? FreakSonar is a Nigerian online Music Studio and e-commerce website that offers the best of Naija Afro beat Instrumentals at affordable rates (Free beats are also available for download) and Offers quality Mixing and Mastering services to its clients also at affordable rates.
Why are we presenting this Afrobeat Instrumentals platform?
The mission of the website is to bring the African studio to Africans and Foreigners who live in Africa and outside of the African continent. The website makes it very easy to get access to quality Nigerian | Ghanaian | South African / African beats etc. without having to leave the comfort of your home, office / classroom etc. It has a very simple and attractive layout / design and a very easy to use interface. Screenshots Below.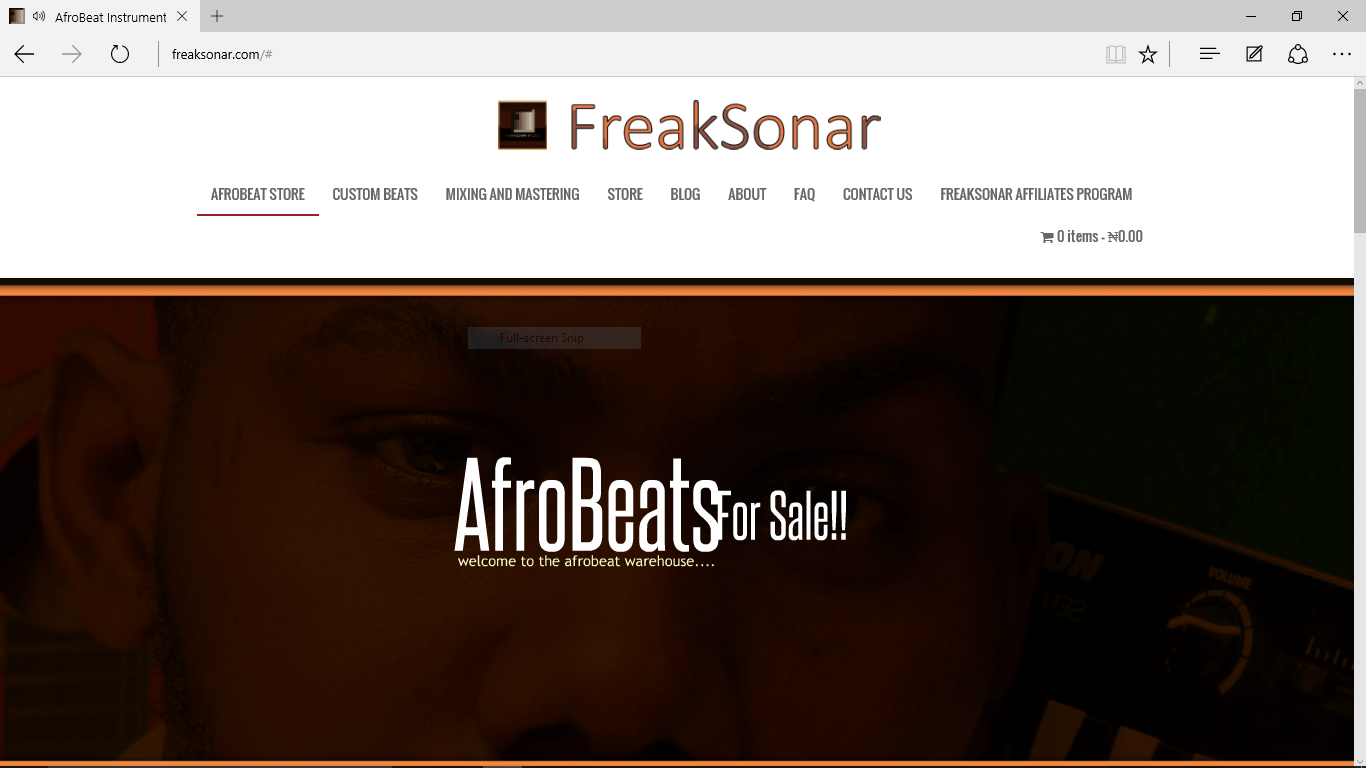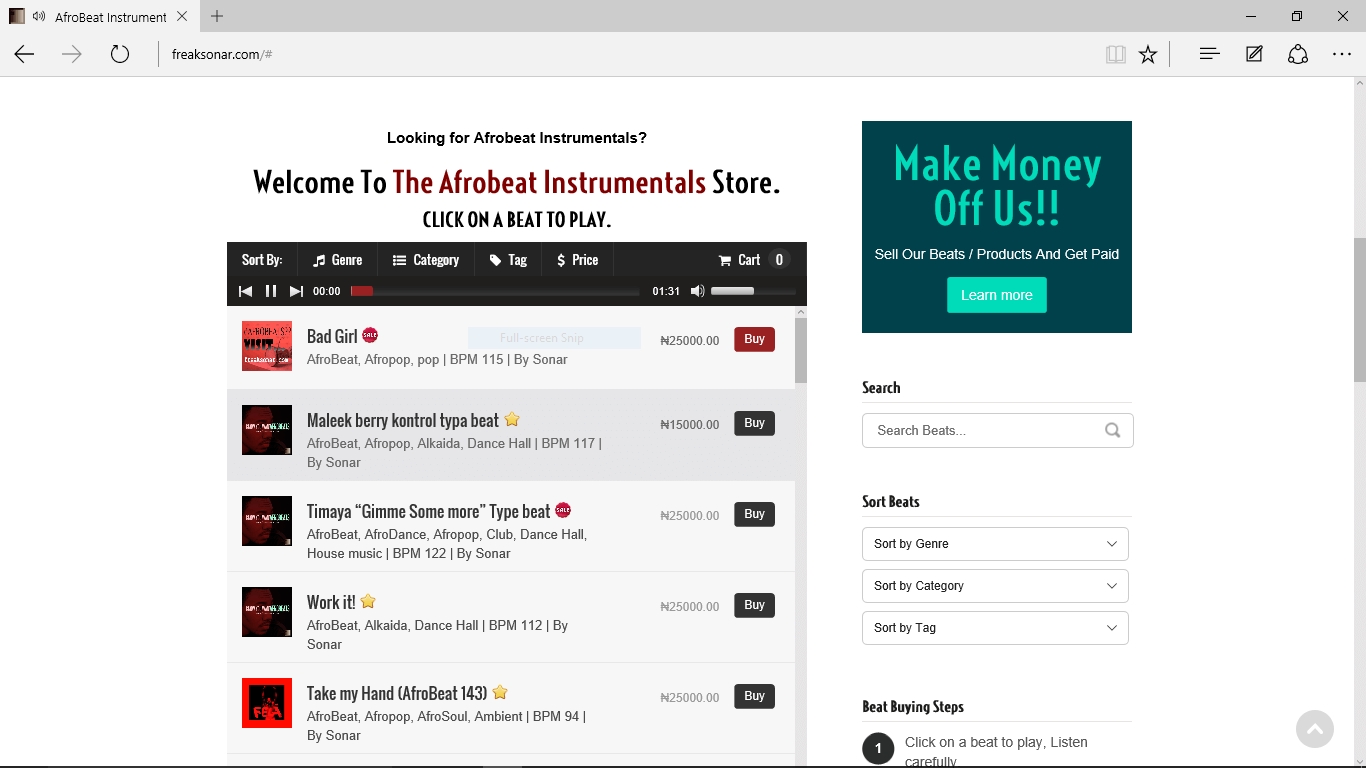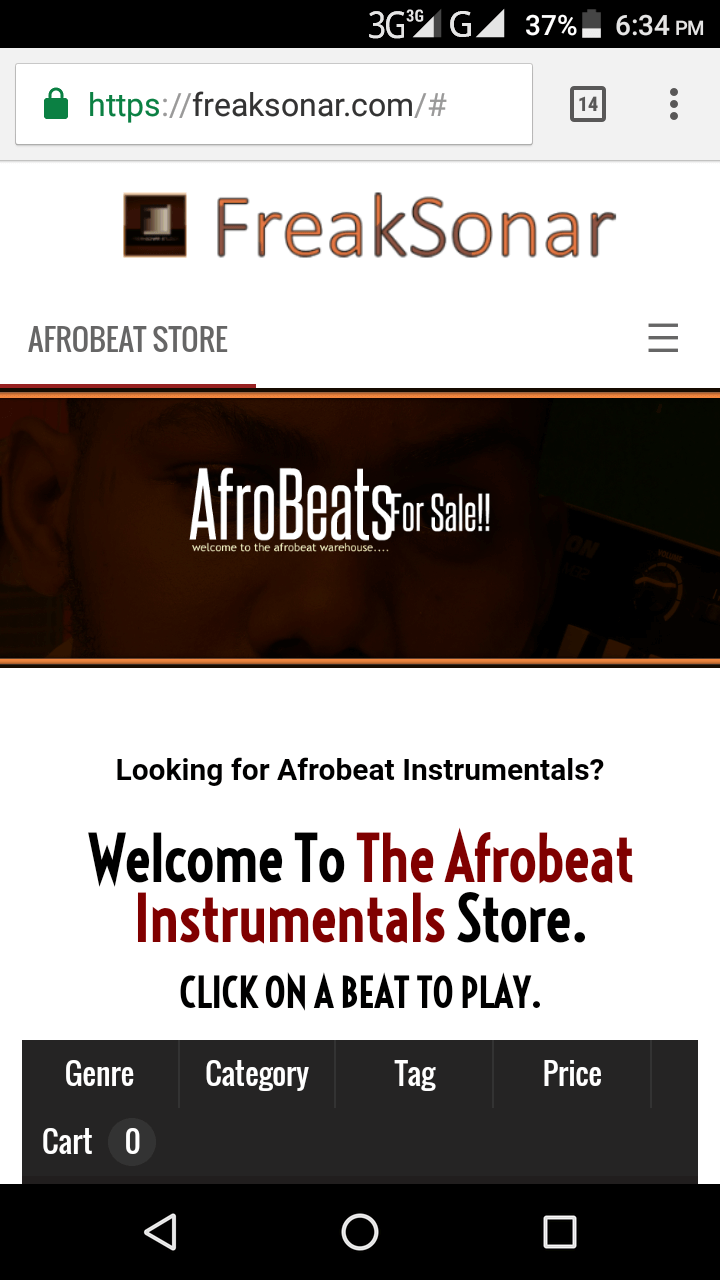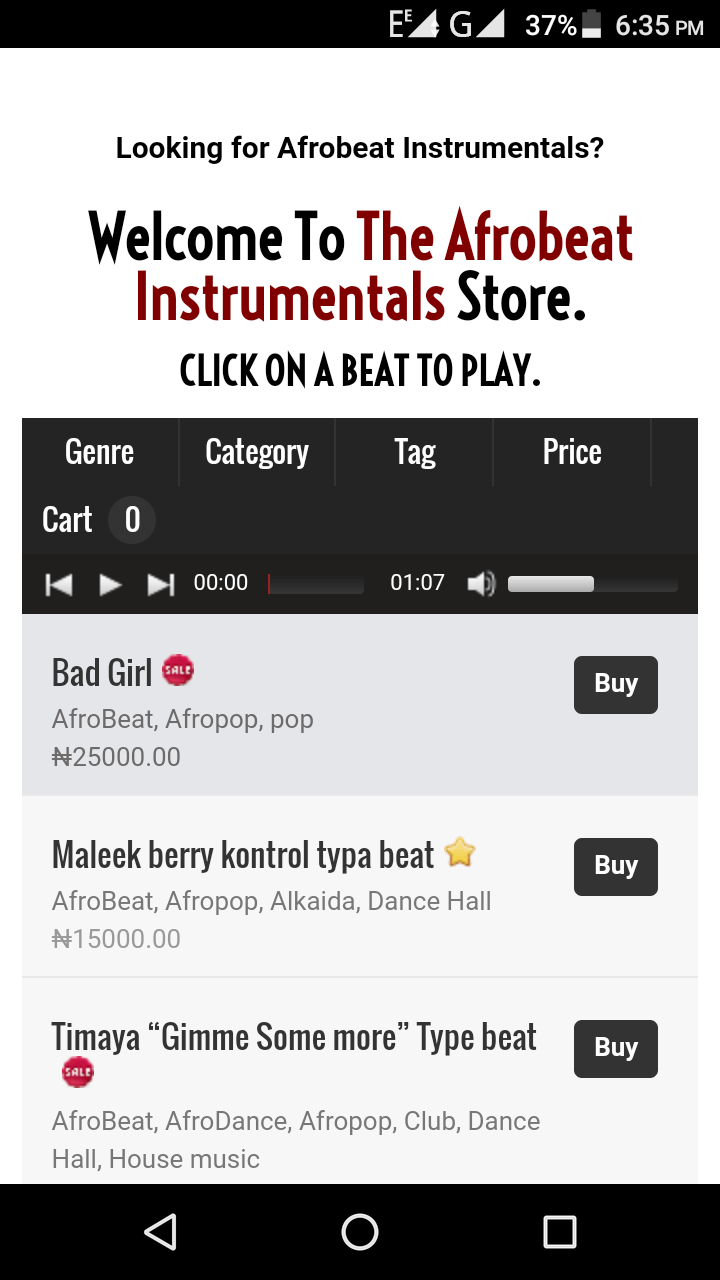 How do I buy beats online?
You don't have to sign up to buy beats… You just.. Put on your headphones or earphones and…
1). Browse the beat store for beats,
2). Click the "Buy" button, then add your beats to cart,
3). Fill in your details(name / email address etc.),
4). Enter your card details and Make payment.
5). Instantly download your purchased beats. No hassles..
6). Be sure to Check your email for your purchase receipt.
That's all.. it's that easy..
So If you got a written song and need a beat for it, Or you looking for a particular type of beat, we can help you get that beat you need for that track. Just visit our custom beats page.
Wanna Have your Track Professionally Mixed and Mastered??
1). You visit our mixing and mastering page,
2). Listen to our awesome before and after mix samples,
3). Follow the instructions there,
4). Upload your Files and Make payment.
5). Get your Track ready in 3-5 days max..
It's that easy..
Once again.. We know you've been searching for all this.. So. Do yourself and your friends a favour by paying our website a visit for any Afrobeat music making need that you may have.
For enquiries. You can contact us
Follow / Like us on Facebook, Twitter, Instagram & Google plus : @FreakSonar
We are headquartered in
No 1 Olufowobi Street, Lawanson,
Surulere, Lagos,
Nigeria.
Thank You For Reading. Need Our Services. Patronize this website today!
Summary of this article in bullets :
You can Buy / Download Your Afrobeat Instrumental on FreakSonar.
You can Get Custom Afrobeat Instrumentals made for you on FreakSonar.
You can Get Quality Mixing and Mastering Services on FreakSonar.